Debbie Johnson

"Fear not, for I am with you, be not dismayed, for I am your God. I will strengthen you. I will help you. I will hold you. I will uphold you with my righteous right hand." Isaiah 41:10

Another year lies ahead, and we know this means a lot of hard work. Some students are anxious about what is coming. Others are super excited. What a comfort it is for all of us to know that our God is with us, guiding and leading us as we embark on this learning adventure together.

My teaching assignments this year are Bible 3 and 4 , Math 3, Language 3, and Science 3 and 4.

I've been teaching in some capacity since 1991, and every year is new and exciting. It really is a privilege to be able to work with your children, to tell stories, to give opportunities for writing and experimentation, and to help them learn new Math skills.

Let's get to work! To the Praise of His Glory!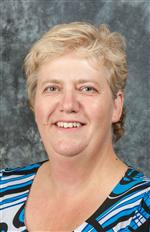 Grade: 3

Language Arts

Math

Grade: 3/4

Bible

History

Math

Science

Room: 101