Debbie Johnson

"Trust in the Lord with all your heart and do not lean on your own understanding. In all your ways acknowledge Him, and He will make your paths straight." Prov. 3:5,6

I've always loved this passage from Scripture, but as I take on the role of principal for this first year at Cornerstone, it speaks strongly to me again. I take on this task, knowing I cannot do it on my own strength, but only as God gives it to me. He has put me here, in this role, at this time, and I trust in Him to guide and strengthen me.

Cornerstone has been a part of our family for many years now, even before our three daughters attended here. Over these years I have had many roles, volunteering and teaching in a variety of grades and subject areas. Most recently I taught full time in the ¾ grades. This year, along with my principal and curriculum coordinator duties, I will also be teaching art in grades 7-10, Web Design 9/10, and Geography, Music and Current Events at the ¾ level.

May God bless us all, as we seek to do His will, as faithful stewards in His kingdom!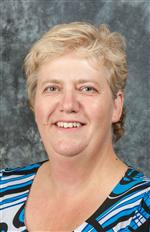 Principal

Grade: 7/8

Art

9/10

Web Design

Art

3/4

Geography

Music

Current Events