Debbie Johnson

Whoever lives by the truth comes into the light". John 3:21 and "For with you is the fountain of life, in Your light we see light." Psalm 36:9

As we embark on a new school year I truly am blessed to be a part of the Cornerstone teaching team, leading and instructing covenant children about God and His created world. I love the interaction with the students. I love learning and it really is a joy for me to share this love of learning with my students. To be able to incorporate some laughter and fun into the learning environment is something I strive for as well.

An exciting development in my Science curriculum the last few years has been including many hands-on activities and this year I expect to do the same. The enthusiasm of the students for their learning is really rewarding.

My other teaching assignments are Bible ¾ , Math 3, and Language 3. Telling Bible stories, showing God's mighty hand, and lovingkindness in how He deals with His people is something else I really love.

I've been teaching in some capacity since 1991, and I'm still smiling every time a new year begins. May our Heavenly Father continue to guide and bless our plans for this school year.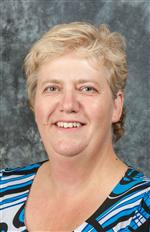 Grade: 3/4
Room: 105
Phone: 360.318.0663 ext 229