Darryn Kleyn

It's a privilege to be working in my 15th year at Cornerstone Christian School. I thoroughly enjoy serving alongside our enthusiastic, experienced and team-orientated staff. We are also well-supported by a hard-working board and a host of volunteers.

I'd like to extend a warm welcome to a new staff member, our first alumna to the join the staff: Ms. Janita Willis. She hails from Lynden and we're delighted to have her join our team.

This year our school theme will focus on: Knowing God - great is the Lord and greatly to be praised! Indeed, our sole focus in teaching and life is to fulfill our purpose of glorifying Him in all we do. As servant leaders in the classroom our students should see in us something of who Jesus Christ is. The example we set in worship, the way we treat our students, the methods we use to teach -- should all reflect our love and desire to serve Him.

I thoroughly enjoy working with the students and parents at Cornerstone. This year, in addition to my principal and athletic director duties, I will be teaching Business Math, Web Design and PE for grades 1/2, 3/4 and 9-11.

My wife, Beatrix, and I have six children. The four oldest are attending CCS this year. As a family we enjoy reading, biking, playing soccer and fishing. We are members of the American Reformed Church in Lynden.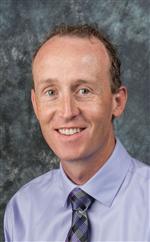 Principal


Grade: 1/2 & 3/4

PE

Grade: High School

PE

Personal Finance

Business Math