Darryn Kleyn

"…..tell the generation to come the praises of the Lord" (Ps. 78)

Supporting Christian parents in teaching their children to walk in the ways of the Lord, is a joyful task at Cornerstone. I have taught at the school since 2004 and have been in the principal role since 2013. I thoroughly enjoy serving alongside our enthusiastic, experienced and team-orientated staff. We're thankful to be well-supported by a hard-working board and a host of volunteers.

I received my education credentials from Edith Cowan University in Perth, Western Australia. After teaching grade 4/5 in my alma mater for five years, my new wife and I moved to Lynden to take up a new challenge at Cornerstone teaching grade 7/8.

Since then my wife, Beatrix, and I have been blessed with six children and they are all attending CCS this year. As a family we enjoy reading, biking, playing soccer and fishing. We are members of the American Reformed Church in Lynden.

This year, in addition to my principal and athletic director duties, I will be teaching Personal Finance and PE for grades 1/2 and 9-11.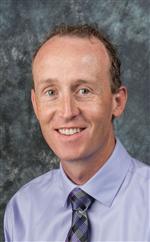 Principal


Grade: 1/2

PE

Grade: High School

PE

Personal Finance